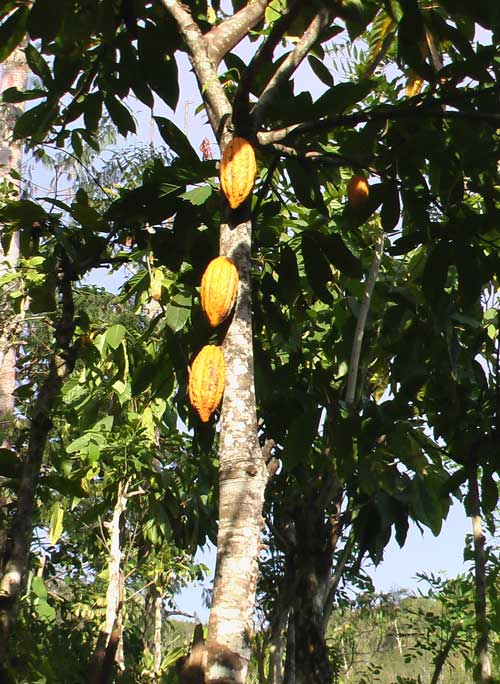 "The True History of Chocolate"
This is the title of a book written by Coe and Coe. The authors a husband and wife team, both Harvard academics, intended to document the definitive history of chocolate in this book (as there are many versions of the history of chocolate). Michael Coe a meso-american expert finished the book after his wife Sophie died of cancer while working on the book. For Sophie the history of chocolate was her passion and she spent hundreds of hours tracking down centuries-old manuscripts in the libraries of Europe and North America.
The Coe's refer to the pre-mayan culture of Olmecs, particularly the group based in Izapa in Xoconusco (Soconusco), Mexico as the place where the criollo variety of cacao was originally domesticated by this culture sometime between 400 B.C. and A.D.100. There are still small pockets of these original heirloom varieties of criollo cacao in semi-abondoned plantations around the ruins of Izapa, just outside Tapachula in Xoconusco. The region of Xoconusco and the cacao gro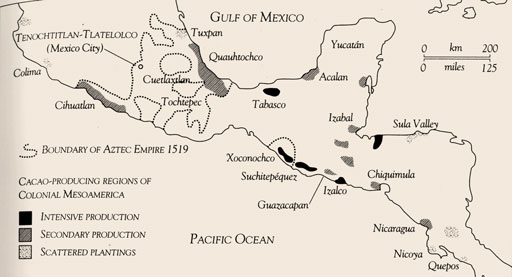 wn there was so prominent in their account of the true history of Chocolate that the coe's referred to it as "the diamond in the crown of the Aztec empire". The map shows the boundaries of the Aztec empire and the major cacao growing regions of the time just before the spanish conquest. You will notice the Aztecs conquered the small region of Soconusco even though it was far removed from the main part of their territory, just to be able to control the prized cacao grown in the region.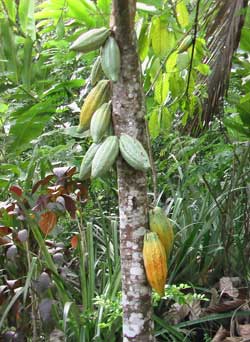 Cacao and Traditional Mesoamerican Life
Cacao was considered sacred by the mayans and was the major offering in most of their ceremonies. Even though the cacao bean was central to Mesoamerican life, only the very wealthy and powerful could afford to use it. The Mayan and Aztec priests and royalty drank copious amounts of a drink made from the fermented and crushed cacao seeds. This drink was called xocoatl or "bitter water" in Nahua. Later in Europe xocoatl became "chocolate." Xocoatl was used for ceremonies and religious observances. Priests used it as a part of their prayer offerings. Kings drank it for breakfast. Marriage vows were sealed by drinking xocoatl. It was a major part of every feast. During the 15th century, Nezahualcoyotl's court in Texcoco is recorded as consuming "four xipuipillis" or 32,000 beans each day. In the market place, the beans were accepted as standard currency. On market day, three beans would purchase a turkey egg, 100 beans a slave or a dugout canoe, 65-300 beans a cotton mantle. Cacao beans continued to be used as standard currency until 1887 in Mexico.The cacao of Xoconusco was considered the finest, best quality cacao by the aztec royalty and the largest annual taxes of cacao were collected from this region.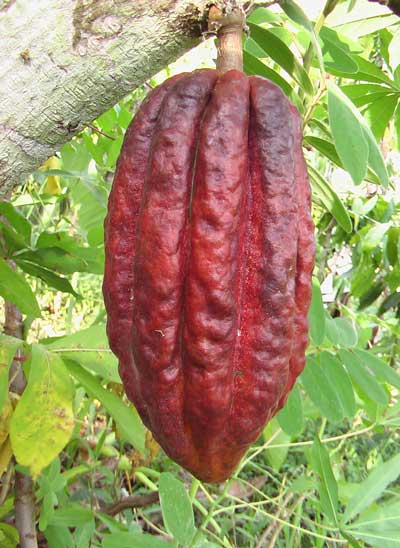 Cacao Beans, Butter, Liquor, Nibs, Powder, Raw Chocolate Bars & Chocolate Coconut Butter
The raw cacao bean is one of nature's most fantastic superfoods due to its wide array of unique properties, many of which are destroyed or corrupted by cooking.

"People always ask me what I eat. Raw, organic Cacao Beans are the primary food in my diet. They have inspired me to eat less and live more. Cacao Beans are truly the food of the gods, the best food ever!" - David Wolfe, co-author of 'Naked Chocolate' book. Please go below to buy.

Cacao beans contain no sugar and between 12% and 50% fat depending on variety and growth conditions. There is no evidence to implicate cacao bean consumption with obesity.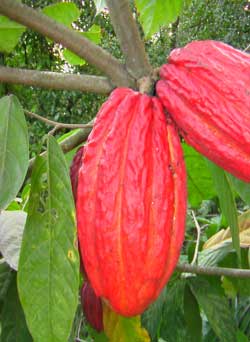 Magnesium
Cacao is remarkably rich in magnesium. Cacao seems to be the #1 source of magnesium of any food. This is likely the primary reason women crave chocolate during the menstrual period. Magnesium balances brain chemistry, builds strong bones, and is associated with more happiness. Magnesium is the most deficient major mineral on the Standard American Diet (SAD); over 80% of Americans are chronically deficient in Magnesium!

Stimulant or Superfood?
Cacao contains subtle amounts of caffeine and theobromine. However, experiments have shown that these stimulants are far different when consumed raw than cooked.

Consider the following: Experimental provings of chocolate by homeopaths indicate its stimulating effect when cooked. One experiment conducted with a decoction of roasted ground cacao beans in boiling water produced an excitement of the nervous system similar to that caused by black coffee, an excited state of circulation, and an accelerated pulse. interestingly, when the same decoction was made with raw, unroasted beans neither effect was noticeable, leading the provers to conclude that the physiological changes were caused by aromatic substances released during roasting.

MAO Inhibitors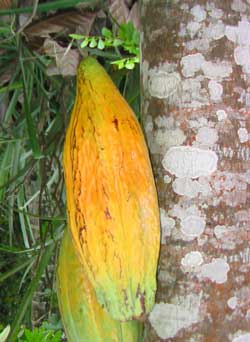 Cacao seems to diminish appetite, probably due to its monoamine oxidase enzyme inhibitors (MAO inhibitors) - these are different from digestive enzyme inhibitors found in most nuts and seeds. These rare MAO inhibitors actually produce favorable results when consumed by allowing more serotonin and other neurotransmitters to circulate in the brain. According to Dr. Gabriel Cousens, MAO inhibitors facilitate youthening and rejuvenation.

Phenylethylamine (PEA)
Phenylethylamine (PEA) is found in chocolate. PEA is an adrenal-related chemical that is also created within the brain and released when we are in love. This is one of the reasons why love and chocolate have a deep correlation. PEA also plays a role in increasing focus and alertness.

Anandamide (The Bliss Chemical)
A neurotransmitter called anandamide, has been isolated in cacao. Anandamide is also produced naturally in the brain. Anandamide is known as "The Bliss Chemical" because it is released while we are feeling great. Cacao contains enzyme inhibitors that decrease our bodies' ability to breakdown anandamide. This means that natural anandamide and/or cacao anandamide may stick around longer, making us feel good longer, when we eat cacao.
Allergies?
A recent study showed that only one out of 500 people who thought they were allergic to chocolate actually tested positive. Allergies to chocolate are quite rare. It is typically the case that the person is in fact allergic to milk and dairy products.

Cacao & Antioxidants
Raw cacao is very high in antioxidants. Its ORAC rating is 621 - compare that to blueberries at about 32!

ORAC scores for the Top 11 Antioxidant Foods (per 100 grams)
1) Raw cocoa powder* 95,500
2) Raw cacao nibs* 62,100
3) Roasted cocoa powder 26,000
4) Goji Berries* 25,300
5) Acai Berries* 18,500
6) Dark Chocolate 13,120
7) Prunes 5,770
8) Raisins 2,830
9) Blueberries 2,400
10) Blackberries 2,036
11) Kale 1,770
Source: US department of Agriculture/Journal of American Chemical Society
* Source: Brunswick Laboratories MA, USA

Cancer & Heart Disease
Recent studies have shown that cacao helps protect us from cancer & heart disease.
How To Use Our Cacao:
1. Try eating beans & nibs straight or mixed in with nuts, seeds or/and dried fruits. Chew thoroughly and experience the taste extravaganza of raw chocolate.
2. Add cacao to smoothies to enhance the flavour & nutrition.
3. Create a raw chocolate desert: Mash 2 - 4 avos with some squeezed some citrus juice. Add 1 - 2 mashed bananas, or some soaked & mashed dates. The add 2 - 4 tbspns cacao powder or very finely-ground cacao beans or nibs . Mix well & enjoy!
4. Create a raw chocolate bar. Heat the following ingredients in a water bath to 43 degrees C: 8 tbspns coconut oil, 2 tbspns finely-chopped cocoa butter. Add very finely-ground & sieved cacao beans - 2-4 tbspns to taste, then honey or maple syrup - 2-3 tbspns to taste. Pour into molds and place in your fridge or freezer. Eat cold and experience the truth about the food of the gods!
There are about 100 recipes in 'Naked Chocolate.' Please go below to buy.

Warning: Eating raw cacao may cause you to have THE BEST DAY EVER!

Cacao is great fun for everyone - especially kids!